Integrity is our foundation
Pride in Craftmanship & Reputation
Alliance Construction offers a wealth of experience in residential new construction and home remodeling. Our honest, expert approach has earned us a reputation for reliability, honesty, and superior craftsmanship. Our company values start with a passion for client satisfaction, which ensures our projects are always well managed, well built, and delivered on time. We bring responsible and realistic building practices combined with personalized service to each project. 
Ryan Coleman | Owner, Builder
The Alliance Construction story begins in 2000, the year I founded the company. I can't say I came into this industry by accident, my family background in construction dates back four generations. The values that shape this company, honesty, integrity, and quality craftsmanship, have been instilled in me since I was just a young kid.
My goal is to work closely with homeowners from foundation to finish. Alliance takes a hands on approach with every detail of your project, and we've been working with a core group of experienced and trusted subcontractors for over a decade. Our knowledge and attention to detail are what drives our success. Thanks for looking through our website; I look forward to working with you in the future!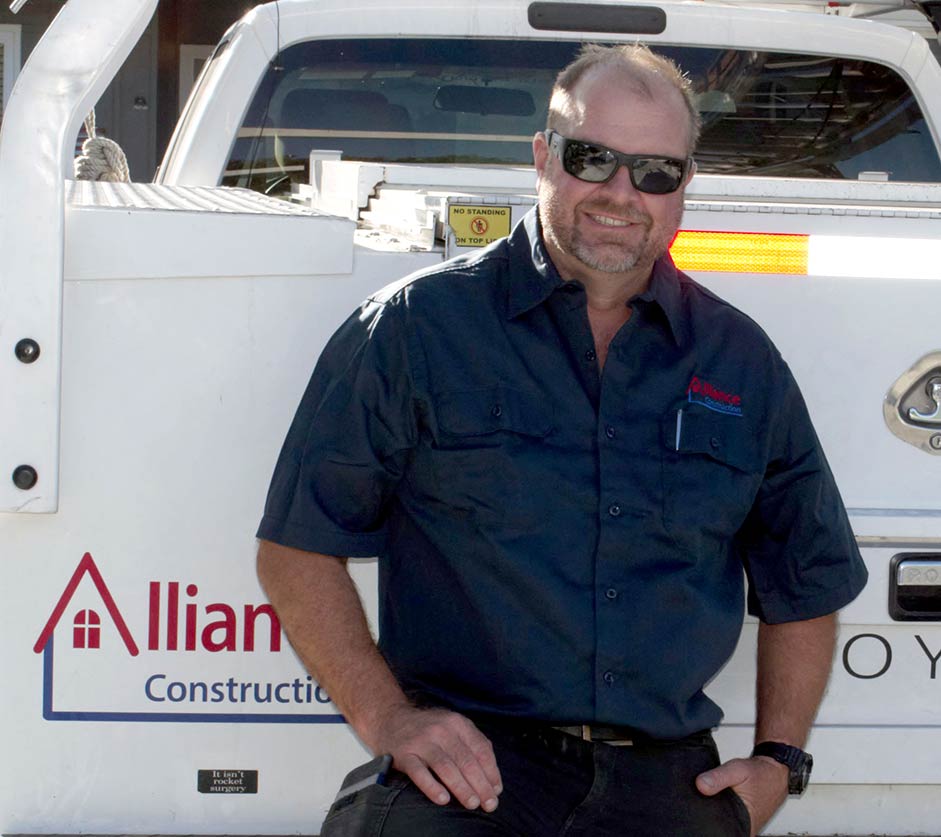 A distinguished, professional touch goes into every home we build or remodel. We'll transform your idea into something that exudes fine character and comfortable luxury with a design that's truly your own and reflects the lifestyle you lead.
rewarding client experiences
We create memorable & enjoyable experiences
Building a custom home is a big investment of your time and money, no doubt about it. That's why we put in the time to make sure our customer experience is accommodating throughout the entire process. We truly care about you and your experience, and when all is said and done, our goal is to be lifelong friends rather than just business partners.
We can't say enough about Ryan and his team. They are high quality, trustworthy, great attitude and a pleasure to work with. They have helped us build two homes and we have been challenging and demanding. They have addressed it all with a smile and "we can do it" approach. They are always there, even if you are having a problem after hours. All this and they are cost effective to boot!
Ryan Coleman and Alliance Construction deserve a 10 star rating! Ryan built our home in Atherton. He does high quality work, he meets all deadlines, and he is a kind, ethical person. I always refer my friends and family to Ryan. All have thanked me and all have been pleased with the work he does. I am thinking about beginning a new construction project. I called Ryan to discuss the project and I look forward to working with him again! I wouldn't call anyone else. I highly recommend!!
I now use Ryan and his team for all of my Real Estate referrals. I used him for my own house, and was so impressed, that now he gets all of my business. What is great, is that he is so organized with his bids, and his team is very thorough! I would use Ryan, without any hesitation!
Ryan Coleman and his team are great to work with and will stick with you to the end.  We remodeled our home a year and a half ago, and loved the results.  Recently we found out there was a small leak under the house that was from a toilet that was replace.  After all of this time I called Ryan and he sent out someone to repair and fix the issue without charge. In this day of not knowing who to trust I would recommend Ryan for his honesty and reliability.
Ryan and his team did a great job on our remodel. The team was courteous, knowledgeable, thorough and adhered to committed schedules (with reasonable flexibility when schedules moved around which they always do in a larger remodel). Alliance Constructions' scope of work included: -demolition of kitchens and bathrooms -removal and re-installation appliances -installation of all plumbing -light electrical -coutertop and tile flooring was managed by Alliance by fulfilled by subcontractors
Alliance Construction renovated our newly purchased 1946 rancher that had not been significantly upgraded in more than 30 years. An amazing amount was accomplished allowing us to move into our "new" home in three months.
Let's get together and plan your project
We would be honored to provide you with outstanding service and exceptional quality craftsmanship for your new custom home build or remodeling project.